Fossil Hunting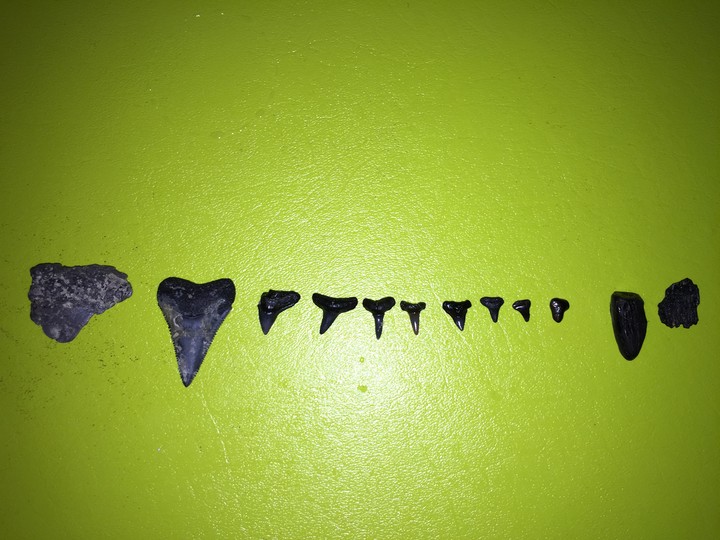 These are the results of my fossil hunting while in Florida during March of 2018! While scuba diving in Sarasota, FL in November of 2016 I came across a gentleman at Venice Beach that was diving for fossils.
He showed off a large bag full of shark teeth he had found and claimed that he had found many times this amount over his lifetime. I would come to learn that the beaches just south of Sarasota, Florida provide famous fossil hunting grounds1 due to the prehistoric Peace River Formation2 that is slowly being exposed overtime from erosion. This fossil bed extends 1 to 2 miles or so into the gulf from these beaches and provides a fantastic scuba diving experience! Having grown up with exposure to finding and collecting Native American arrow heads, I instantly became hooked on the idea of scuba diving for fossils!
My chance to scuba dive for fossils came when visiting family again in the Sarasota area in March 2018. In preparation I did some research on the practice of diving for fossils in general and how to best conduct a dive for them where I would be located. I found helpful advice from Florida Underwater Sports3 and Florida West Scuba & Charters4. The best shorediving beaches for fossils are Venice and Caspersen. The gentleman I mentioned I met in 2016 gave me some example fossils of what to expect to find and these are shown below in the upper half of the display box labeled as Nov. 2016.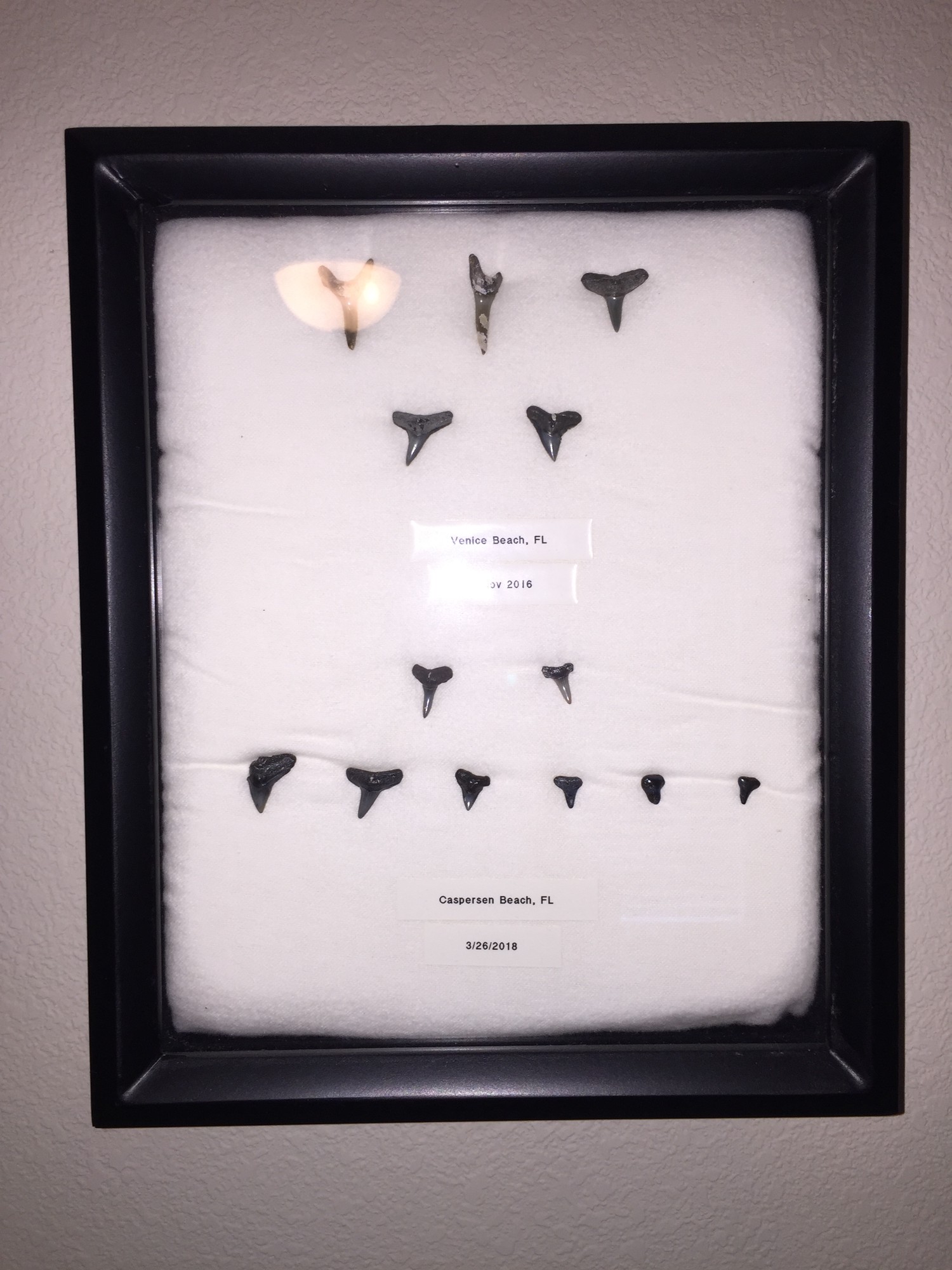 The best season to dive for fossiles in this area is late Fall. This is because the water is cooling down so clarity is decent, the water turbulence is fairly low since most of the Hurricane season is over and the recent winter storms have likely uncovered more of the fossil bed. My next trip will be adjusted accordingly, but as it turns out, it is still possible to find fossils outside of the prime fossil hunting season!
Due to family constraints I could only manage one day of diving.
The week of my dive, I discovered that the local waters and fossil beds had been ravaged by recent storms. The visibility was <= 2ft and all shops had canceled their fossil hunting guides the day of my dive. They claimed that it would be very difficult to find anything in the conditions. However, having coming this far I was not to be deterred!
I brought most of my own gear but rented a wetsuit and two AL80s from Florida Underwater Sports3 and (after realizing it was required by law) rented a dive buoy from Florida West Scuba & Charters4.
The diver I met in 2016 at Venice Beach, recommended entering there around the lifeguard shacks5, swimming out about 100 yards and then descending in about 20ft of water where I would likely find a set of large rock bollards.
He claimed swimming beyond these bollards a few yards would lead to a large, black gravel bed (phosphate granules) that would provide the ideal hunting spot. So my first stop was Venice Beach. After consulting with a lifeguard there, it became apparent that diving there that day would be tricky for multiple reasons:
The lifeguards were fussy about scuba divers being too close to swimmers
The beach is fairly wide making lugging gear quite difficult
The fossil bed had been submerged by wave action by recent storms
This beach is likely the most searched beach by locals and tourists alike
Due to the above concerns, I hopped over to Caspersen Beach which I heard from the aforementioned dive shops was also great, but less trafficked due to it beach being less conducive in size, location and quality for beachgoers.
By the time I splashed for my first dive, it was already about 3pm. My entry was approximately directly across from the southern most parking lot on the beach at the following marker6. Each dive lasted about an hour with a maximum depth of 25ft. It was heavy dusk by the time I exited from my final dive.
I wasn't sure where to search as this beach was less discussed in public forums and local dive shops. Armed with my underwater camera, mesh bag and dive reel/marker buoy I set out anyway. I first searched around the closest jetty7 at a depth 5-10ft with no luck. Then thinking back to the general distances involved in the surface swim recommended for Venice Beach and knowing that the best spots were ultimately boat dive locations 1-2 miles from shore, I decided to extend my search out 100-200 yards. Sure enough, after swimming directly out ~100-200 yards, I came across a large gravel bed full of black, phosphate particles. Within seconds I had found my first tooth, from a Prehistoric Great White no less!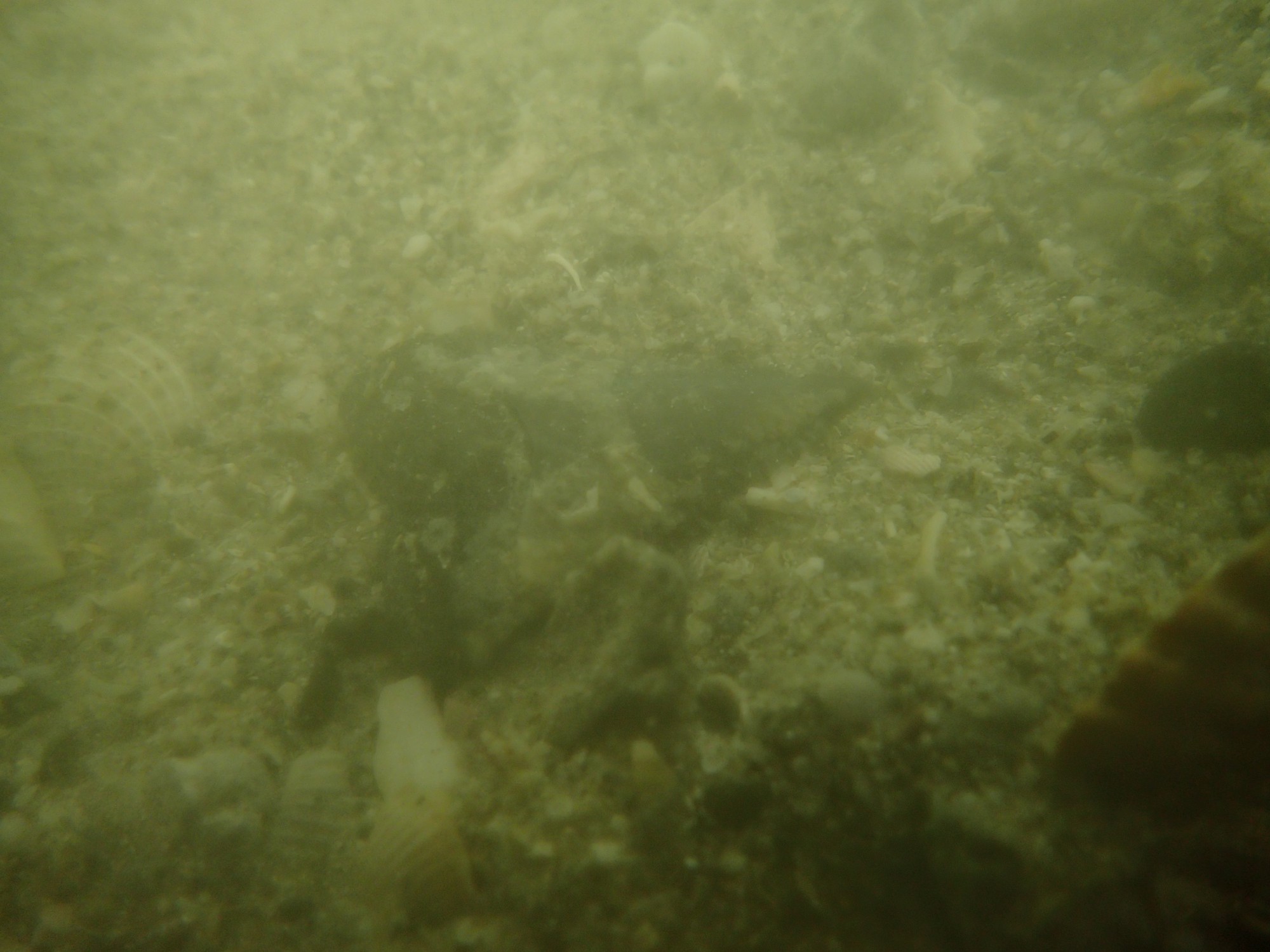 As is evident, the visibility was truly poor (at best 2 ft).
Over the course of the two dives I found several more teeth and assorted bone fragments!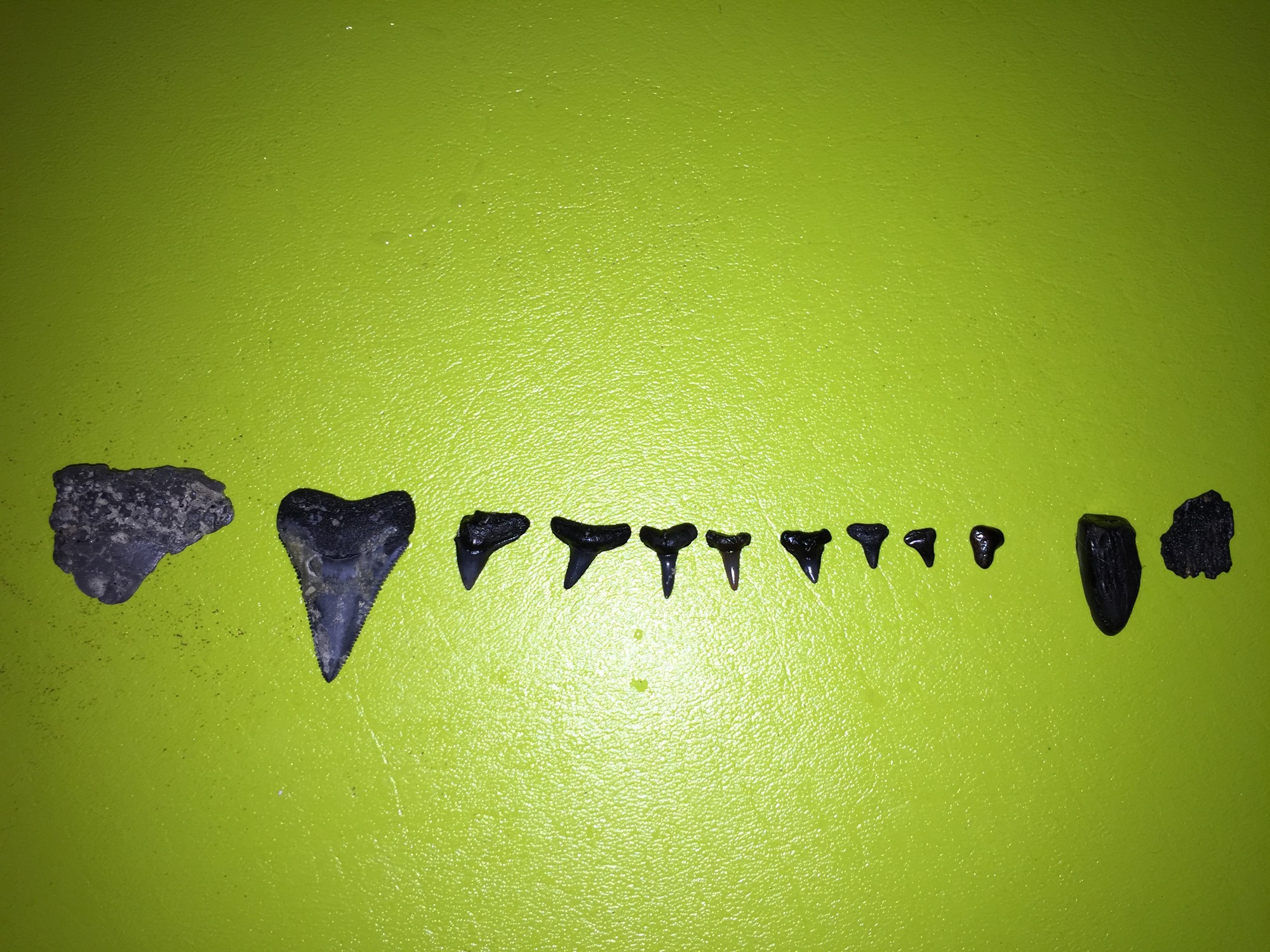 The locals were stunned by my finds given the conditions and apparently difficult nature of shore diving for fossils in any conditions. Apparently, the best fossil hunting is done 1-2 miles out from shore by boat at Venice and Caspersen Beaches.
Matching some of my finds to one online source's1 index of fossils local to the area, I think my specimens cover a wide array of animals:
whale jaw fragments
various shark species' teeth
3 toed horse teeth
dugong rib fragments
ray plates
Happy hunting!