Fossil Hunting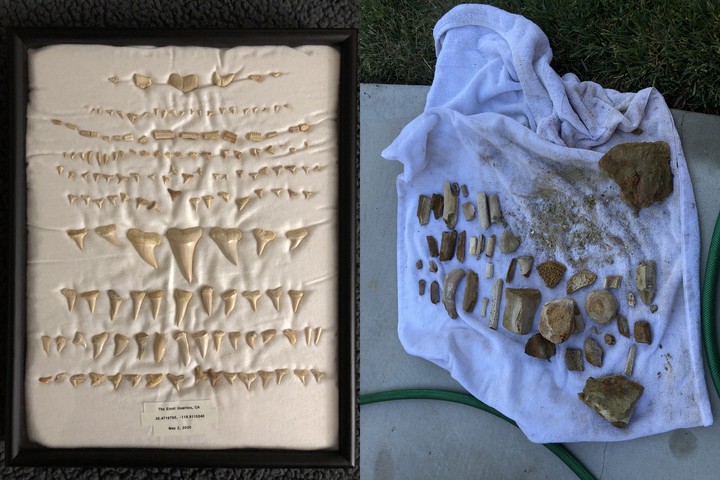 Table of Contents
Summary
These are the results of fossil hunting in The Ernst Quarries1, aka Sharktooth Hill, near Bakersfield, CA on May 2, 2020!
This is a trip I had been planning for a few years. The trip finally came together after downtime brought on by Covid-19.
The Ernst Quarries runs its dig season from about September to June, skipping the summer months due to high heat in those months.
The manager for the dig was very generous and kind, giving us a large area from which to conduct digging. Even though we had acres to choose from, our chosen dig site resided only 20 feet from the parking lot! 2
Make sure to bring plenty of water, food and sun protection. An overhead sunblock such as a canopy tent works well at providing sun protection.
Matching some of my finds to one online source's3 index of fossils local to the area, I think my specimens cover a wide array of animals:
whale vertebrae
various shark species' teeth
porpoise teeth
ray plates
I cleaned the fossils using only water and a toothbrush as I didn't want to damage them or inadvertently whiten them (the coloration of the fossil left by the surrounding soil's minerals during the fossilization process is often highly prized). In accordance with a previous fossil hunting trip, I've crafted a wall-mounted showcase for the teeth.
I have yet to figure out a display method for the larger fossils such as vertebrae so stay tuned!
Below you'll find pictures with captions (if clicked) detailing the salient features of the trip.
Happy hunting!
Gallery